As I write this while sitting on my cosy sofa in the living room, my husband is in the kitchen, preparing and cooking dinner. It has been about eight months since we face the global COVID-19 pandemic.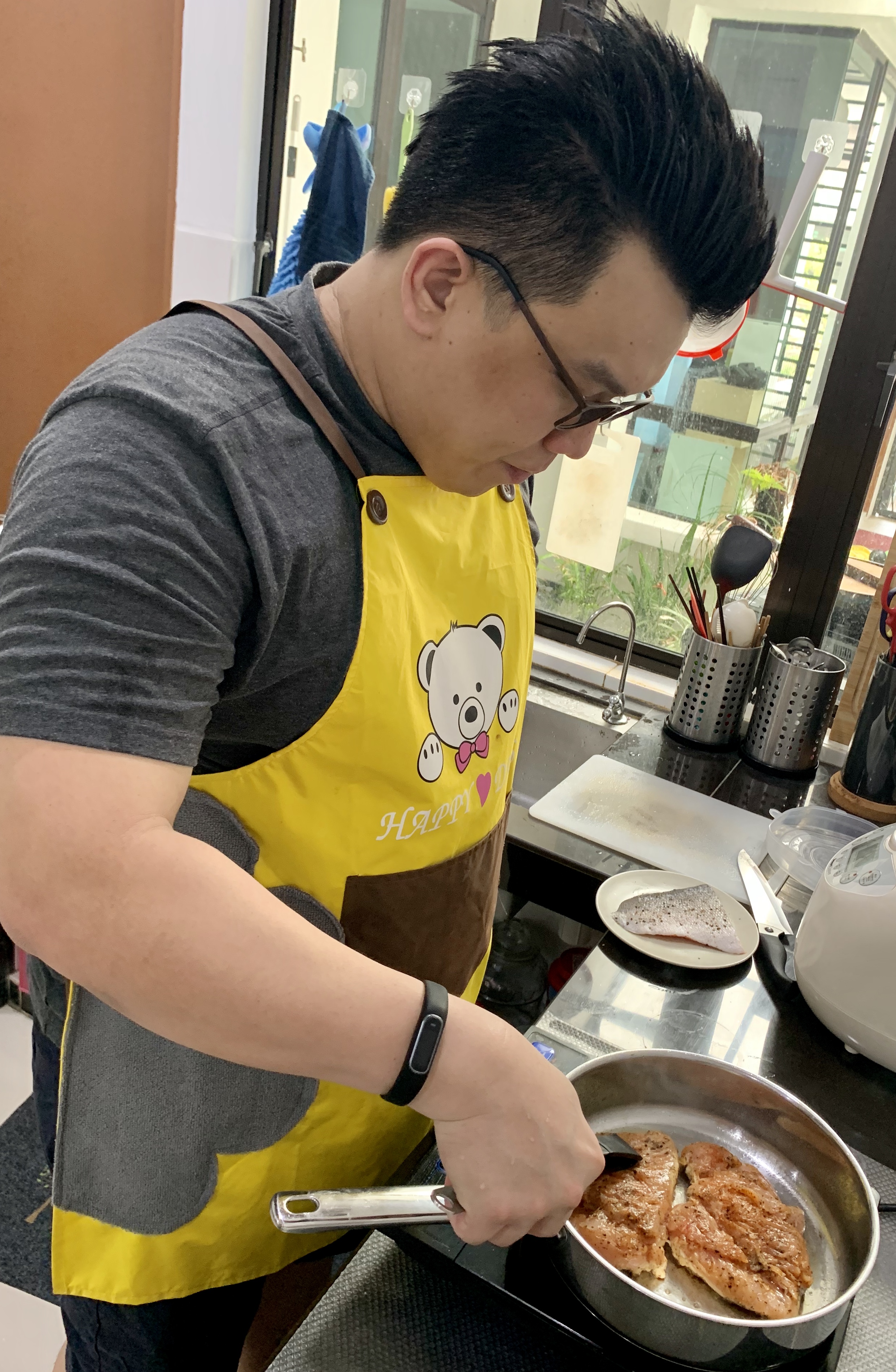 When he cooks in the kitchen
And we have been bombarded with so many unfortunate news - from how tens of thousands of Malaysians have lost their jobs to how retailers are struggling to keep their business afloat. The isueis becoming worse amidst the spike in COVID-19 cases lately.

Although we may face uncertain times ahead due to the unstable economy and the political turmoil in the country, we must also take this chance to reflect on the good things in our life.
Admittedly, I must say that COVID-19 has been a blessing in disguise for my marriage.
Before the pandemic, there were days where we were able to roam around, travelling from one place to another, and meeting our friends. That was the time I treasured the most with plenty of my 'me-time' and I could freely roam around to sample plenty of local delicacies.
Bah Kut Teh in Klang. Wan Tan Mee in PJ New Town. Nasi Lemak in Chong Kok Kopitiam. Fried Hokkien Noodles in Damansara Uptown. A glass of cold coffee in Weng Koh Hainan Kopitiam.
At times, I went out and beyond Klang Valley, travelling to Malacca for authentic Nyonya cuisine or sometimes, to the north, and had a plate of Ipoh chicken rice while bringing back my favorite local delicacies like tau sar peah. Those were the glory days… But undoubtedly, it was quite a lonely moment for me too.
He was not there 'physically' for me
On most of the weekends, my mind was merely about work and of course, looking forward to meeting my family. Whereas my husband would literally 'disappear' for weeks and, occasionally, months as his job requires him to be outstation.
While we frequently argued about his work schedule, we always ended up with no solution. All we know was to make our peace and live with it till the days where we were both became 'stable' in our career. And indeed, it was a roller-coaster ride both emotionally and physically.
Emotionally, we love each other very much and were there for one another virtually. But physically, we have to stand firm with both our feet and grow stronger in our ways and wills. In particular, when friends and family members' started nagging about the husband's whereabouts and leading to the topic of building a family that has amounted to some pressure.
During the day, it didn't bother me much but, when night fell, undeniably, there were times that I hope he was there for me physically, to listen to how my days went by, to become a huggable 'pillow' for me to lean on when I needed it the most and to cuddle with someone I love.
Then, the pandemic became the reason behind my 'little'  bundle of joy
With the pandemic came, government orders telling people to stay home. And since my husband has to work from home, I now feel the joy and happiness of having him with me 24/7. At the initial phase, it was quite weird to see my husband at home every day but, as time went by, the feeling of appreciation and grateful became so strong that I don't want him to go outstation anymore.
Imagine, we can now spend so much time with each other, talking about matters that we care about, movies that we love, and dreams that we share. It was no longer the days that I had to do it alone but, now we cook meals together, we do laundry together, and the best part is we get to see each other every time we open our eyes and before we call off the night.
During the lockdown, it has become a 'ritual' for us to have meals together
Beyond that, we are truly blessed that we are about to welcome our little bundle of joy in the coming month. The plan to have a baby was always put on a back seat due to our work commitment, however, with this pandemic, and with God's plan, we are excited to become new parents.
The future outlook may look a little bleak at the moment but, having someone whom you love and are able to brave through these days is something that we should treasure and cherish.
Counting the days off together and precious moments are one of the best gifts ever! 
Welcoming our little bundle of joy in one month time
Note: This story was featured in says.com
Regards,

FoodiesTravel