I've been craving for homemade chai kueh since MCO was first implemented. It was certainly not easy to find one especially many markets were forced to close. Now that we are in RMCO phase, my used-to-visit stall has decided to close its business. Thankfully, in Klang, there's this place in Pandamaran that sells very, very delicious chai kueh. Located in the new village of Pandamaran Klang, Chai Bao Chium has a history of 60 years making chai kueh. Unlike selling the chai kueh in a commercial lot, this is done in their own house.
So, ta-da!! Cravings satisfied and family members agreed that it was one of the best chai kueh that we have ever had.
Topped with fried shallots, it has just perfected the chai kueh
Chai kueh is a typical snack that is very popular among the Teochew and Hakka. It comes with a very thin skin and translucent with a slight chewiness – a texture that I love the best. Drizzled by quite a fair bit of oil over the chai kueh, it prevents the chai kueh from sticking with one another and gives a smooth skin.
When comes to fillings, it's pretty standard – yam bean (sengkuang), bean sprouts (taugeh), and carrots.
The first bite was indeed tasted like a paradise. It was so aromatic and tasty, giving a balance of crunchy and rich bite. And one chai kueh is definitely not enough.
To have your chai kueh at its very best, dip them in their homemade chill sauce. It's not spicy so you can go all out and 'flood' your chai kueh with the sauce.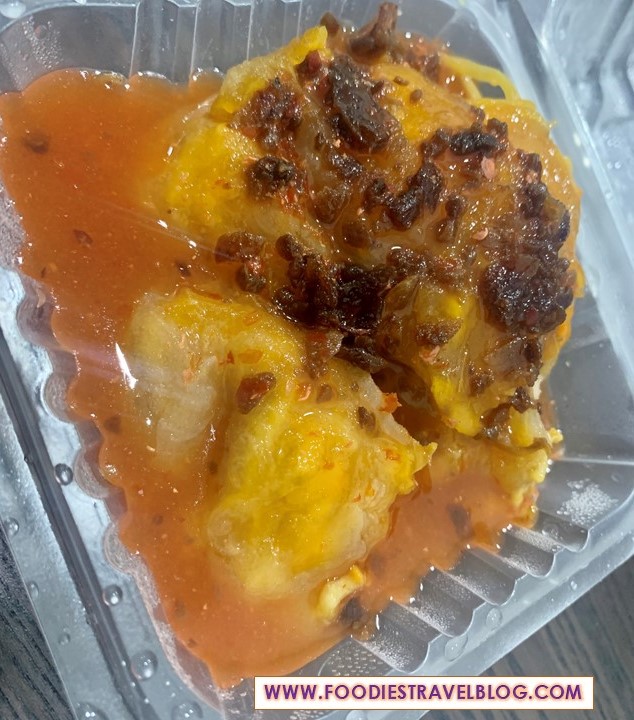 The chai kueh is pretty limited so make sure you call to order first especially on the weekend. Even though it's RMCO, you will be surprised that there are a lot of people who order and bring it home as snack. The chai kueh is small so, if you are in luck to buy it, just buy a minimum of 15 to 20. You can keep it in fridge if you can't finish them.
As there are restrictions and SOP to comply, I couldn't take a photo of how the Chai Kueh is made. Nevertheless, for the benefit of the readers, here's a video link on Chai Bao Chiu Chai Kueh – you will get a glimpse on the process of how make it too.
Price: RM 0.60 per piece
Chai Bao Chium Chai Kueh,
No.250, Jalan Lai, Pandamaran,
42000 Pelabuhan Klang, Selangor.
Call: 016 – 373 2219 / 03 – 3168 6719
Opens as early as 7.30am to 2pm. Closed on Monday and Tuesday.
Remarks: Booking is needed for weekend order.
Regards,
FoodiesTravel